I apologize there is no order to these pictures!!! ENJOY!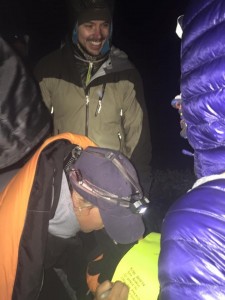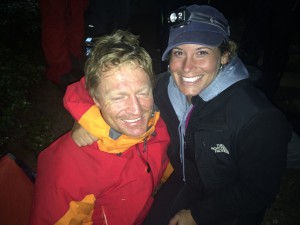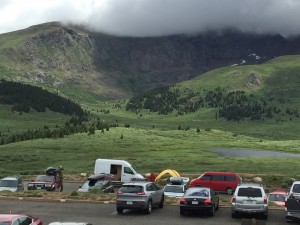 Well, it is my last post on the Blog, and oddly enough there are quite a bit of emotions attached to that statement.  Although its a week or so later, the memories of this epic feat, will last my lifetime. Thanks Andrew for that.
Coming off G/T we transitioned quick, and headed to B/E, in the rain, of course. I can't believe the consistency of Andrews speed, despite the fog, rain/snow throughout this attempt. Although, Andrew did get lost on Grays, he claims he took the "Tour de Grays" haha. I guess that's what happens when you are fogged in.  Then it was B/E where Stefan met us and off they went. Starting down the road to meet the 3000 ft rule, often seemed so tiring and tedious when having to hike on a long road, for quite a while, but such goes the rules of the game.  We waited and waited for what seemed forever, I slept, and then woke up to our own entertainment as some friends from the 14er community joined us. We all hung out in Charlie's van, and it continued to rain, off and on again. We ate cinnamon bread, and were interviewed by reporters. We often stood out staring (with binoculars) up at the gully Andrew and Stefan had planned to come down, until we finally saw them! Yes, the jackets finally stood out, almost when I couldn't take the waiting any longer. They finally reached us after what seemed like forever, but as usual they were right on schedule. I should have known better by now (after the 57th mountain!!!!), but I was ALWAYS so antsy awaiting his return.
Now, finally the moment we have been anticipating since day one, the drive to LONGS!!!!! It was not a pleasant drive, actually quite intimidating as we drove the Peak to Peak Highway in a downpour.  We arrived at Longs and already, there were lots of friends from the 14er community welcoming us. We finished getting Andrew ready, finished packing his pack, crampons, ice ax and all, and then set him off! Knowing the conditions up there were not ideal, I was nervous as he walked away to begin his final ascent.  I knew he would be just fine though, and it comforted me he had some fine friends to hike with! At around 10 Pm, we all set off, to hike up to 11,255′ where we would anxiously await Andrews arrival at 2:21 AM!!!!!!!!! As the night progressed, many more from the 14er community showed up, with noise makers, bright signs (Danielle and Kat, THANK YOU!), fireball whiskey, and Champaign – OH WE WERE READY!!!!!! The skies cleared, the stars were out, and the air was chilly. It was so refreshing to be up at 11,000′ with such wonderful people. Finally, we saw what we have been anticipating. Head lamps, 5 of them! YES THEY WERE COMING DOWN! The constant "WOOHOOing" and noisemakers began, and before long, Andrew had reached us at 11,230'! At 2:21 AM on July 9th, 9days21hours51minutes after the start of this amazing feat, Andrew was finished! He had broken the standing 15 year record set by Teddy "Cave Dog" Keizer of 10 days 20 hours and 26 minutes. Let the celebrations begin!!! Thank you to EVERYONE who took part in this record. From hikers to forum supporters, you all played a vital role of support for Andrew, and were able to keep him motivated through his hardest hikes! Thanks to everyone who came out to Andrews finish, to be there and celebrate with all of us! You guys are the ones who make these memories so much fun. Thank you,  a hundred times over!
Congratulations Andrew, you have set the bar high. You were prepared, you scouted, you learned from past mistakes, you didn't let demoralizing hikes get the best of you, you stayed smiling (most of the time) and you did it! You have inspired THOUSANDS to get out and get after what they too dream about, and have inspired those to go the extra mile (as we all know, its the road less traveled).  You have demonstrated what it is like to persevere through pain.  You have a heart of dedication, a mind of focus, a body of strength, and the will to succeed. Thank you for allowing me to be part of this amazing journey, and just like everyone else, you have inspired me, to keep going, keep pushing, knowing we are much more capable than the limitations our minds try to tell us.  Be proud of yourself, no matter how long your record stands, this time on day 9 hour 21 and minute 51, it was your moment, you accomplished something no one else in the world has ever done before, and THAT will ALWAYS be yours.
(Stand by for Andrews POV of this amazing accomplishment)